Getting some projects done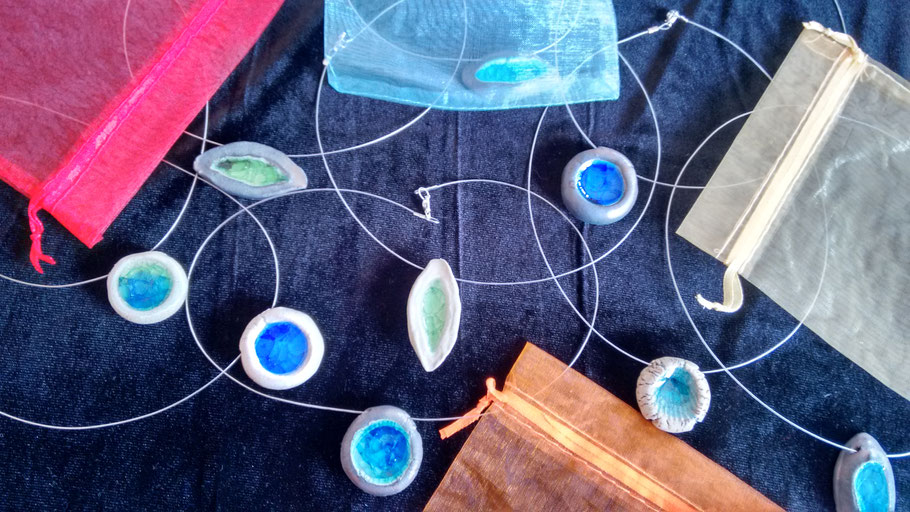 Jewelry
Last year I saw somewhere necklaces with ceramic and recycled glass pendants and I was thrilled. I had to try that. I did a lot of research to find the right glass. Fortunately I found a company in Ontario, they sent me exactly the kind of glass I needed. My favorite colors: bottle green, a deep dark blue and turquoise. I was thankfully, that the clay I am normally working with was usable. Than, I had to find the melting temperature, it didn't work out with 1050 Celsius, so I tried it with 1250 Celsius.  The results were amazing and I tried it a second time with different shapes of pendants. The different pendants are available with different necklaces, all are spectacular.
Ceramic flowers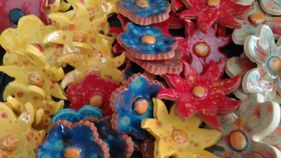 Ceramic flowers on welding wire, those guys are looking great in your planters and your backyard. I handcraft them in different sizes and shapes and they sit perfect on a welding wire stick. I love them, they are looking so different to the mushrooms I handcrafted last years summer season. Even though they are still available. Have a look at the different photos.
Totems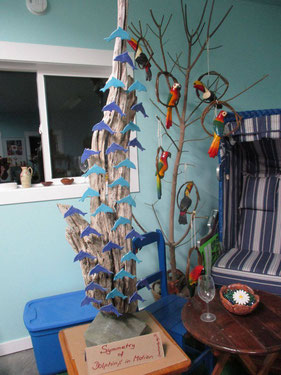 I love creating totems with driftwood. This great piece I found at Edith Lake, only a 25 minute drive by car out of Kamloops. The handcrafted dolphins are fixed with welding wire into the driftwood piece. Thanks to my hubby who did a great job. Have a look at the video below! This work can be placed outside as the dolphins are fired at a higher temperature, like this they are pretty weather resistant. I am still looking for a title, a friend sent me lots of ideas but I haven't decided yet which is the right one. Everything takes its time!